All About CRN Hoses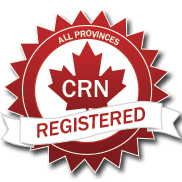 When you purchase a CRN certified hose from Ontario Hose, you are not only purchasing a hose, you are also purchasing traceability, safety and integrity.
Each CRN hose has its own individual engineering drawing, component list, assembly procedure, test procedure, tracking procedure, test certificate, and CRN tag. By using unique individual hose ID number Ontario Hose can tell you the complete history of your hose from when the components were first purchased to who actually put the CRN tag onto the hose assembly.
What is a CRN Number?
CRN stands for Canadian Registration Number. This is a number issued by TSSA to a company signifying that the hose assemblies produced by that company comply with the requirements of TSSA.
Who is TSSA?
TSSA is the Technical Standards and Safety Authority. They are an independent, non-government, not-for-profit organization responsible for the regulation of boilers, pressure vessels, pressure piping, fittings and hose assemblies.
What does a CRN number do for me?
A CRN number attached to a hose assembly by a metal tag with a CRN number stamped on it means that the hose assembly meets or exceeds the requirements of TSSA for hose assemblies.
Am I safer using a CRN certified hose than a non certified hose?
YES – a CRN certified hose means that all procedures from ordering the materials to attaching the CRN hose tag are documented checked and tested to insure that the hose assembly you purchase will perform the way it is designed to work.
Can used hoses be certified for CRN?
No – If not previously CRN certified by Ontario Hose
Yes – If previously CRN certified by Ontario Hose
Can any company certify a hose to be CRN approved?
No – Only companies that have been inspected and certified by TSSA are qualified to produce hose assemblies with a CRN certification.
Ontario Hose was one of the first companies to be approved to produce all six categories of CRN hoses.
6 CRN Categories

Registration per Province: