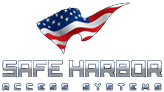 Safe Harbor has been working on the development of a new product based on the current pandemic issues; the SureStation! Linked below is a PDF webpage mock-up that describes the capabilities of the SureStation & a video going into detail on how it works.
SureStation's contained environment and innovative software start ensuring safety as soon as it arrives at your facility. Just plug it in. The fully customizable station goes to work right away.
Here's What SureStation Provides:
• Confidence that you're ensuring worksite health & safety
• Fast, safe entry for verified employees, visitors, & contractors
• Contained environment – no staffing required
• User friendly, easy set up – "Plug & Play"
• Portability – easy to relocate
• Hands-free temperature checks: quick (3-5 second) & accurate (+/- 0.5ºF)
• 24/7/365 System monitoring & support
• Peace of mind
Click on the PDF & video to learn more about the SureStation!
If you have any questions feel free to contact us for more details!